Guest Post by Jaselin Drown
Summer is the prime party season. Birthday, pool, holiday, you name it! Warm weather gives us an added reason to be outside and there's only one thing perfectly positioned to help us recoverㅡwatermelon. Watermelon is not only good for hydrating, but also for relieving muscle soreness, so the bounce house beast won't do too much damage if encountered at a birthday party. While it's nutritional qualities make watermelon reign supreme as THE summer snack, it's aesthetic makes it the pattern for everything under the sun. Notebooks, towels, pool floaties, even watermelon phone cases (which are almost as satisfying to look at as the real slices are to taste)! Watermelon is a summer symbol perfect for a party theme, simple but cute, and sure to make the actual fruit disappear. Tis the season to eat all things watermelon, and to decorate with them too!
Bust Open the Watermelon, It's Party Time!
While watermelon's place is typically limited to the table, taking a main role it can bring together a party as a fresh theme, just like watermelon brought together the animals in the children's book Watermelon Party. Telling a true story, Watermelon Party shows animals from different species coming together in Rocky Ridge Sanctuary to share a watermelon. Like our animal friends, your diverse community can gather around the watermelon (decorations) and make some lasting memories at any party you host. In fact, some readers have already customized this theme, using a copy of Watermelon Party as a way for guests to express their birthday wishes instead of bringing cards! One reader commented, "A very cute book with an awesome storyline. My daughter's first birthday was watermelon themed. We got this book to have guests sign and leave her a note instead of bringing cards." The book holds the memory and love of those attended for the birthday girl to cherish forever.
Why not add another slice of something that party go-ers can take with them? Dragonfly Designs does just that by putting together jewelry making parties that inspire connection, creativity, and most importantly, fun! It's the easiest way to elevate your event. They come to you and bring all of the materials! If they're out of your service range they have ready made kits and instructions so you can host your own party with minimal effort.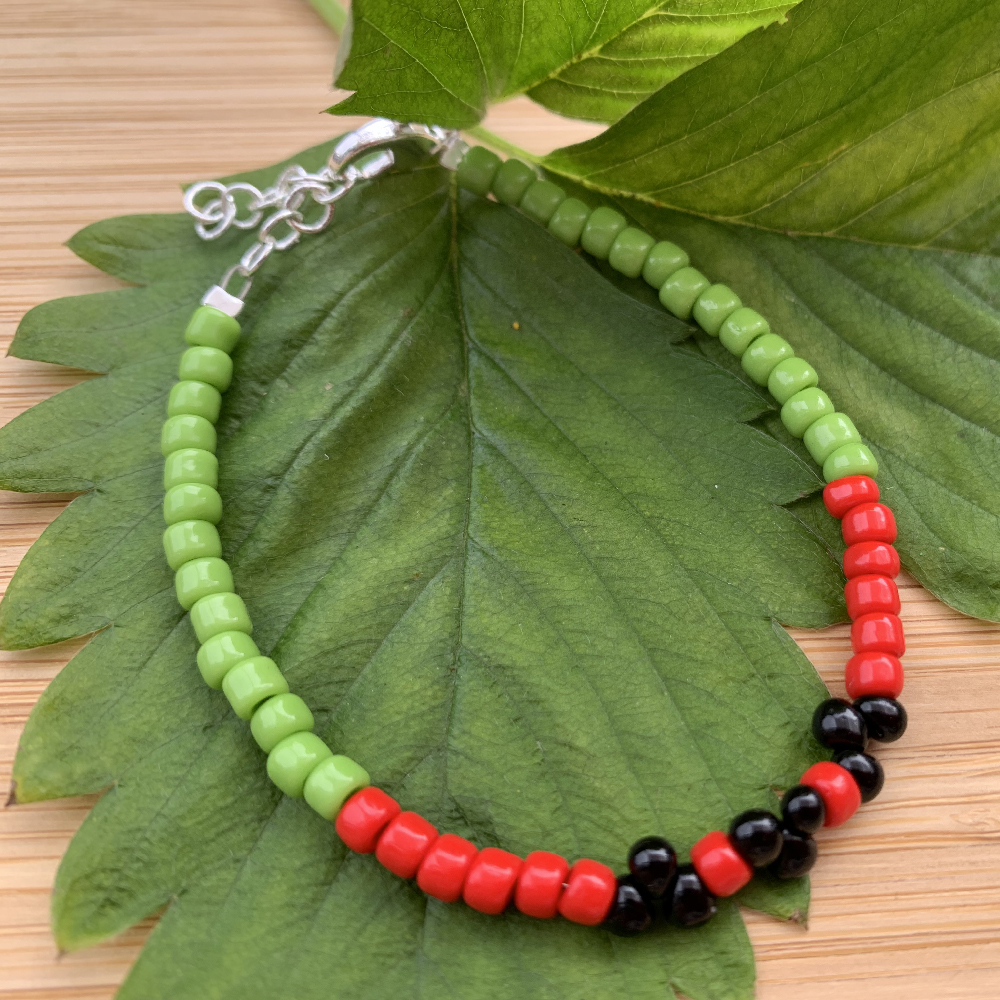 Want More? A DIY Watermelon Jewelry Making Party
Dragonfly Designs has teamed up with Green Bamboo Publishing to make the ultimate watermelon-themed jewelry making party. Dragonfly Designs truly believes in the message of coming together despite differences that Watermelon Party seeks to teach children and wants to make it actionable for you! Create a unique experience for your party go-ers by providing this engaging activity. The simple but cute watermelon bracelets add juice to any watermelon-themed bash and act as great favors for kids of all ages to bring home. Now everyone has something to remind them of their favorite summer birthday party and the people they spent it with!
Taking the time to sit down and make these bracelets in groups gives kids an outlet for expressing themselves as well as encourages quality time together. Kids' creations are all parent-free with only the instruction from a host guiding their beading! By the end of the party they'll feel independent and leave with a sense of accomplishment. Even the shyer kids start participating when they're excited about what they're making and want to share their creative choices with their table neighbors. With many bead types and patterns, kids can show their own style yet still work toward the group's goal of making a watermelon bracelet. They can share their different ideas, learning about each other and appreciating difference in the process. Like the animals in Watermelon Party, they'll create strong friendships and memories for life. Watermelon Party and jewelry making go together like summer and, well, watermelon!
Kids at Heart: Adult Bracelet Making
Don't worry, Dragonfly Designs wants the adults to have just as much fun as the kids! They also put together an intermediate bracelet project featuring a sensational ombré multi-strand bracelet. If you're a fan of seedless watermelon then you'll love this design. This classy bracelet will create a standout experience for your adult guests (and maybe your more advanced child jewelry designers) and show thought and care on your part. Fun is ageless, so bring together guests of all ages in this themed craft!
A watermelon-themed party will surely make a splash. Plan your party today and share the fun with Green Bamboo Publishing (@greenbamboopublishing) and Dragonfly Designs (@hellodragonflyfun) on social media!