Animal rescue advocate Yazmin Feliz has a soft spot for the underdog… or should we say underbird? While most people simply pass by the pigeons that flock to the streets of New York City, Yazmin couldn't help but notice the playfully social nature of these misunderstood birds.
Many people see pigeons as pests, but up until the past few decades pigeons were beloved pets and even assisted veterans on the frontlines. Pigeons carried our mail, helped us find soldiers wounded in battle (their capacity for picking patterns and people out of a crowd is astounding), and assisted on all sorts of missions. Though many people don't realize it, even today pigeons provide support as therapy animals to children and adults. (The pigeon that is trained to "slap" products that contain gluten, as a way to alert a young boy with celiac disease, is a beloved example.)
Pigeon Love At First Sight
It was one pigeon in particular that truly tugged on Yazmin's heartstrings and changed her life's path. The bird was injured, afraid, and unable to fly. Yazmin decided to rescue the poor thing and instantly gained a soulmate. Tutu (as the pigeon is affectionately named) and Yazmin have been inseparable ever since.
When Yazmin first brought Tutu home, she was nervous because she had never before cared for a pigeon, but she learned fast. A veterinarian advised that Tutu was not releasable, which meant that Yazmin's newfound friend would become a permanent member of her household. The two bonded so well that Tutu beat the odds and, after much love and care, has regained the ability to fly.
The dynamic duo quickly got the attention of the media and were featured on The Dodo as part of the Soulmates series. They have a story that certainly captures a lot of hearts!
Birds of a Feather Flock Together
Tutu loves being an indoor pigeon and enjoys playing with stuffed toys, bathtime in the shower, and taking naps in the cat bed. Tutu also likes to build nests and is often seen "borrowing" household items such as q-tips, earrings, and car keys. Pigeons get a bad rap but Tutu is proof that they are clean, intelligent, and outgoing animals who love human affection.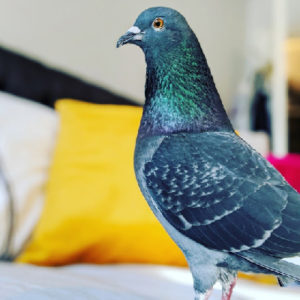 A goofy pigeon with a big personality, Tutu gets along well with the other housemates. Yazmin felt inspired after her success with Tutu's rehabilitation and often has other pigeons she is nursing back to health. Turtles are also a feature in Yazmin's home — she's rescued more than 15 turtles over the years.
Yazmin's goals continue to grow. She recently received official non-profit status for her animal rescue charity, called Rescue Friends Inc. Her goals are to increase public awareness about domestic turtles and pigeons, to reduce illegal turtle sales, and to create laws that would protect pigeons (pigeons, sparrows, and starlings are the only birds not protected by law in the United States). One of the first things her organization is doing is meeting with NYC's mayor's office to discuss turtle sale legislation and how to better enforce these measures.
Rescuing animals is not strictly business, though — a lot of it is playful and fun. On the lighter side of things, both Tutu and Tani (Yazmin's main turtle) have gained quite a following on social media. People love to see the animals playing and just enjoying life.
The playful antics of Tani and Tutu are also evident in their roles in the new children's book High Paw, Super Sebastian. Tutu is in the first section of the story, as a way to highlight the message that all creatures have value, no matter what their station in life.
That's certainly the message that Tutu lives everyday — love is sometimes found in the places we least expect it. We just have to take a closer look.
About Yazmin Feliz
Yazmin grew up in Bronx, NY to a single mother. She recently earned her PhD in mechanical engineering from Columbia University. While it was challenging to manage school and animal rescue, she took pride in her positivity, hard work, and care, and she extends her life philosophies to others who are pursuing their own goals. In her own words, "Everyone deserves a second chance and someone to give them a voice."