The sweet little tale of The No Name Bunny begins with a seed of hope. This is a good introduction for the book since the rest of the story's beginning has a sadder note. Of course, this is to be expected given that the book is about an orphaned bunny that doesn't have a name.
The creative description of humans as "bigs" is charming and adds a touch of whimsy right from the start. The book's author, Ali Tibbetts, does a good job explaining the downsides to pet ownership in a way that children will understand. It's also an important reminder for adults to be thoughtful when choosing animal companions for kids.
Rhonda Van, the book's illustrator, also does a good job with making the story narrative come to life in the illustrations. The bunny is particularly adorable and readers will instantly fall in love with her charming details.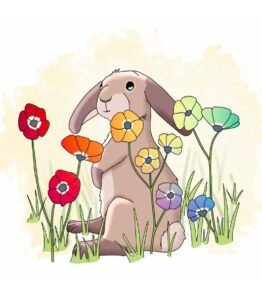 The next part of the story follows what not to do if you realize a pet isn't the right fit for your family. Perhaps the the family in the story had well-intentions, but the reader quickly learns that setting a domestic animal free in the wild is not the right choice.
Luckily, the No Name Bunny has the grit and perseverance she needs to make it through the night. She maintains hope and focuses on keeping herself safe, which is always a good message for kids and adults alike.
The story has a happy middle — an animal rescuer finds the bunny and brings her to an animal shelter where she meets other bunnies like herself. Her newfound friends encourage her to not lose hope and that it's still okay to trust in people.
The sweetness at the end of the story is expressed in the character Honey — a little girl who adopts the No Name Bunny. The little girl is as sweet as her namesake. Readers see an example of responsible pet ownership in the way that Honey treats her new pet.
At the very end, the bunny receives her new name — but you'll have to read it to find out!
The No Name Bunny is published through Who Chains You Books and is available for purchase online.