Moonshadow is one of the animals featured in the children's book High Paw, Super Sebastian! The story follows the journey of a foster puppy as he moves from home to home. The characters in the book are based on real animals.
"When I'm feeling restless," said Moonshadow, "I like to move my body. I jump up and down, kick out my hooves, and run with the wind. "
There's a legend that the Moon loved the Earth so much that it gifted her a tiny star. Moonshadow might just be that star brought to life. Born on the Spring Equinox under a supermoon, Moonshadow is a miniature therapy horse whose pattern looks like the milky way galaxy. She also has the shape of a perfect star on her left shoulder.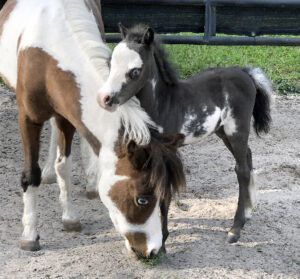 Children were immediately drawn to this special horse, so the organization she belonged to reached out to a children's hospital to help give her a name. The children at the hospital decided on Moonshadow because of her dark, dappled coloring and because of the supermoon that was so bright in the sky on the night of her birth.
Moonshadow is part of Gentle Carousel Miniature Therapy Horses, which is one of the largest equine therapy programs in the world. "The first Gentle Carousel horses worked with young children who had backgrounds of neglect or abuse," says Debbie Garcia-Bengochea, the organization's Education Director. "A large horse can be intimidating to a small child, but the miniature horses were easier for the children to trust and befriend."
That was over 20 years ago, when Gentle Carousel was founded by a single family. The team of tiny equines now visits over 25,000 children and adults each year, providing therapeutic services in hospitals, hospice care, programs for veterans, orphanages, senior centers, and more.
At only 26 inches high, Moonshadow is small even for her American miniature horse breed. Of course, she thinks she's huge. Moonshadow is a bundle of energy. Her wildness surfaces in her outdoor play time where she loves to run, buck, jump, and gallop until she is nearly wiped out! She'll run so fast that she'll fall right asleep on the sofa after, sometimes with a book on her lap.
A Little Horse Power Produces Big Effects
There's a time to be wild, and a time to be calm. Moonshadow seems to intuitively know this and kids are mesmerized by her. Children love that she's so unusual looking, with her bright blue eyes, and when they interact with her they feel like something magical is engaging with them. Moonshadow offers them a safe way to experience a touch of the wild, since she knows how to maintain that balance between being magically wild and yet so gentle.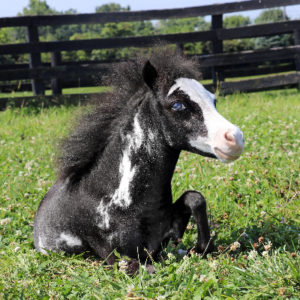 Outdoor play is part of Moonshadow's training. The horses go through at least a two year basic therapy training program. The basic training includes indoor hospital practice and safely interacting with adults and children. The horses gain experience overtime, too, and are constantly becoming even better versions of themselves. Even during COVID-19, Gentle Carousel horses have quickly learned to adapt. Story times that usually would be done live at a library are now done through video. The horses have facetime sessions with children in hospitals. Visits with seniors now take place through windows.
Despite the physical distancing measures, Moonshadow is still having a profound effect on people's lives. One woman at a senior home had not spoken in months, but when she saw Moonshadow through the window she started waving and exclaiming, "We love you!" This is the kind of magical effect Moonshadow has with everyone she meets.
Moonshadow Teaches Children that Reading Is Magic
It is also the kind of magic she brings to the children's book High Paw, Super Sebastian. In the book, foster puppy Sebastian struggles with various emotions. Moonshadow's character helps him overcome feeling restless by running through the wind together in the tall grass. They also kick and jump and play, mimicking Moonshadow's outdoor playtime in real life.
Moonshadow is a perfect fit for the book for another special reason — she and her Gentle Carousel companions facilitate an award-winning literacy program called Reading Is Magic, that inspires young readers and "brings books to life". The goal is to help children improve their literacy skills and help them fall in love with reading. Reading is Magic has a focus on at-risk kids and hosts sessions through libraries, schools, mentoring programs, and education resource centers.
Moonshadow teaches us that big magic can appear in small forms. Perhaps the most important lesson she offers is that even the smallest among us can have a profound effect on the world. Like her namesake, Moonshadow reminds us all to keep shining our lights — you never know the difference you might make.