By Jasmine Cabanaw
Kindness Is… teaches children and adults alike the importance of compassion, kindness, and empathy through a series of common but important examples of responsible pet ownership. The English version of Kindness Is… launched in 2017 and was a donation to the NWT SPCA from volunteers Simone Tielesh (the author) and her husband Aidan Cartwright (the illustrator). Now the beloved children's book is being published in the nine official Indigenous languages of the Northwest Territories.
An Interview with Simone Tielesh and Aidan Cartwright
Simone is a lawyer by trade who enjoys writing and has a lifelong love of animals. She first got involved with the SPCA through a summer camp at just 10 years old. Aidan is a lifelong Northerner who was born in Yellowknife and spent much of his childhood in Fort Good Hope, NWT. He is an artist and teacher and 2nd degree black belt in karate. Simone and Aidan have two young children and a very spoiled dog.
How long have you been volunteering/involved with the SPCA?
We started volunteering with the NWT SPCA in 2013 as dog walkers, and then started fostering dogs later that year. Our second foster dog, Norman, became a foster-fail and forever-love for us and since then we fostered around 20 dogs and puppies from 6 weeks old to 12 years old. We always say that they foster the best in us.
Where did you get the idea for Kindness Is…?
After years of dog walking and fostering we noticed some consistent and persistent issues with the dogs coming into the shelter — dogs that were skinny and hungry, not socialized, scared, who lived mainly on chains; disproportionately older dogs or dogs recently out of the cute puppy stage — and we wanted to help stop some of these issues from arising in the future. Providing early childhood education with information about responsible and kind pet ownership would be a possible way to do that in the long run. We also wanted to help raise funds for the NWT SPCA to continue it's excellent work.
What was it like managing the translation process? Did you gain any insights about the languages or learn something new?
Helping to manage the translation process was a real learning curve. The ideas and sentence structure of the book didn't always translate directly so each book ended up with an individual take on the original work. For example, when we wrote "Kindness is a gentle touch" the North Slavey translation was ""He pets it tenderly".
What are your hopes for the translated versions of the book?
We are excited to reach more of the territory's youth, and not only spread the message of the book, but also support Indigenous youth reading and speaking in their traditional languages, which is so important.
Have you written or illustrated other projects?
This is both of our first times working on a children's book, but Aidan has had several gallery showings for his work over the years. Aidan is a painter who specializes in Northern landscapes and also works in traditional video animation and other multimedia projects.
The Kindness Is… Books Are Available for Sale!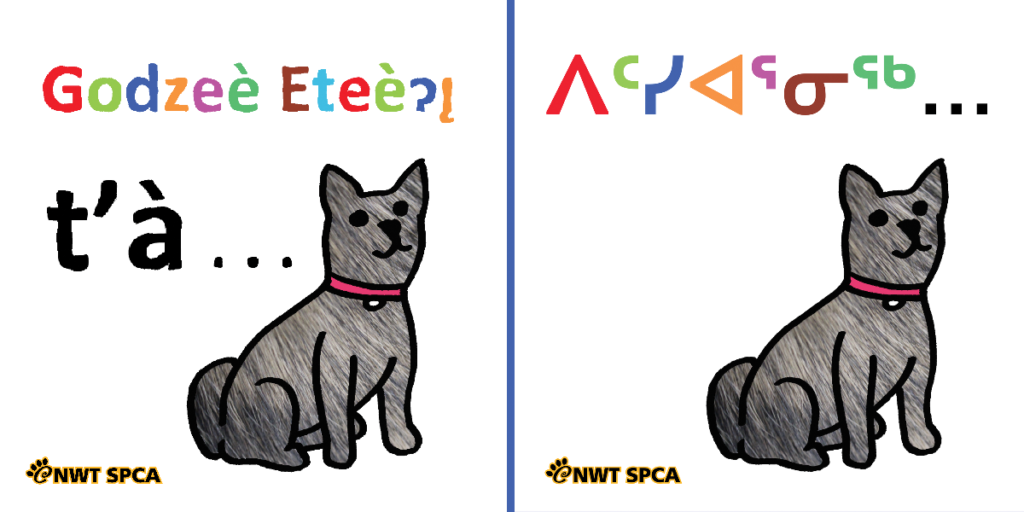 Kindness Is… books retail at $10 CDN on the Green Bamboo Publishing website and will be available for purchase online at sites such as Amazon, Indigo, and Walmart.
Click here for the English version
Click here for the Tłı̨chǫ version