The beloved children's book, based on a true story, recently surpassed 100 5-star reviews on Amazon, and raised funds for an animal charity in the process.
Everyone loves a party… a watermelon party! It's even better if your party goers include names like Barcode, Bazinga, and Auntie Cheesecake. These adorable characters join together with other fascinating critters to share a juicy treat in the children's picture book Watermelon Party. The book has been steadily climbing towards success and passed over 100 positive reviews on Amazon this July.
Based on a true event that occurred at the animal sanctuary Rocky Ridge Refuge, Watermelon Party ties in themes of friendship and diversity. As one reviewer put it, "This sweet book highlights how everyone and every creature can get along and be peaceful, which the world needs more of right now!"
A Message of Diversity and Inclusion
The key message throughout Watermelon Party is that love is so powerful it transcends species — and that there is more than enough room for everyone to exist in harmony.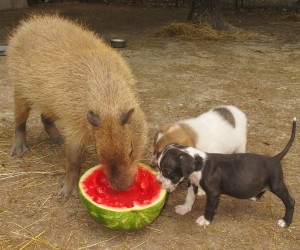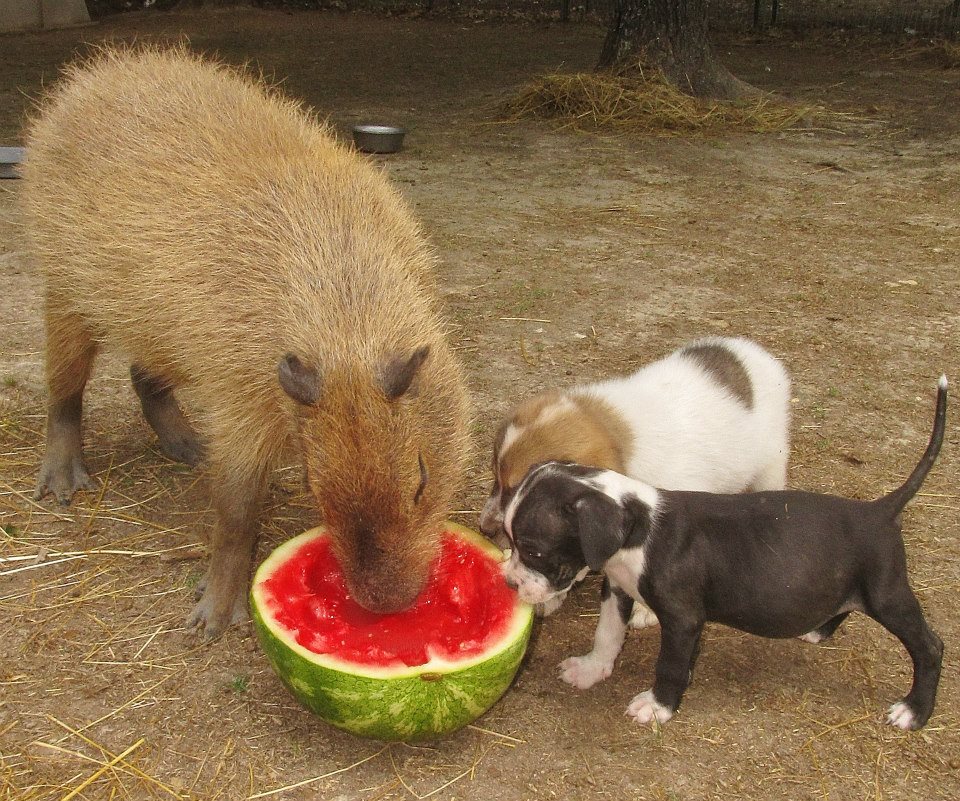 Modern Dog Magazine expressed, "Through charming words and illustrations, Watermelon Party tells the story of how, one day, all the animals came together, despite their vast differences, to enjoy a watermelon. The sweet lesson? Maybe we're not so different after all."
The writing style is light and fun and is designed to help children learn how to read. Author Jasmine Cabanaw spent twenty years working with children, including children with special needs, and her goal was to make the book accessible to children of all learning abilities. She filled the book with rhyming onomatopoeia words — which describe sounds — to help children process phonetics when reading aloud.
Cabanaw learned she achieved her goal when a mother told her that Watermelon Party was the first book her son, who has hearing loss, was able to read. "It was amazing for my kids to learn the 'sound words' and when we got to the end I couldn't believe how hard my kids were giggling."
Cabanaw worked closely with the illustrator, John Moriarty, to turn the series of watermelon photos into a picture book that would resonate with children in many different ways. For instance, they included Bazinga — a miniature horse with dwarfism and a broken leg — so that children with disabilities could relate to the illustrations. There is also a bonus game of "Duck, duck, goose!" designed for the youngest readers. A tiny duckling rides in on the first animal. In each illustration, the duckling is sitting on a different animal, until the very end, when the duck lands on Ryan the Goose (formerly known as Ryan Gosling). These illustrative details make Watermelon Party a book that keeps on giving.
A Sweet Book for An Even Sweeter Cause
Proceeds from book sales are donated to Rocky Ridge Refuge and go directly to helping the animals. Rocky Ridge Refuge is an animal sanctuary located in Arkansas and is home to animals of all kinds. Run by Janice Wolf, with the help of people who transport animals for rescue and adoption, Rocky Ridge takes in the toughest cases even when it seems like all hope has been lost.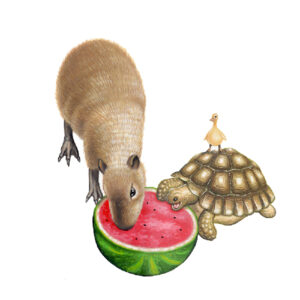 Rocky Ridge also provides sanctuary for exotic animals, who are usually turned away at shelters due to unsuitable facilities for exotic species. The beautiful thing about the animals is that they all get along harmoniously despite their differences. There is Auntie Cheesecake the capybara (who acts as a foster mom to abandoned puppies), Crouton the tortoise, Squatch the wallaby, Barcode the zebra and a whole host of other interesting critters! Wolf saw her refuge rise to fame when her African Watusi steer, Lurch, claimed the Guinness Record holder for the largest circumference of horns of any animal in the world. This gained her a sizable following on social media, which is still loyal today.
While the book has raised several thousand dollars for the refuge so far, it is Cabanaw's hope that book sales will become exponential and can support Rocky Ridge well into the future.
The book is available through Green Bamboo Publishing and can be found online at all of the large bookseller sites, such as Amazon and Barnes and Noble. The hardcover version retails online at $18 and the softcover at $10. There is also an e-book version available for $2.99.
Want to join the cause? Help us spread the word by writing a book review, covering this story, or sharing to social media!

What People Are Saying
"My kids love this story, and as my oldest has gotten older, he loves knowing that it's a true story about a real place and group of animals."
"I bought this book for a friend's child and she said it soon became his favorite book. They read it over and over again. She said he loved the animals and giggled the whole way through!"
"This beautiful children's book has become my go-to baby shower gift. Love it!"
"A very cute book with an awesome storyline. My daughters first birthday was watermelon themed. We got this book to have guests sign and leave her a note instead of bringing cards."
"The Paws to Read therapy dog took his copy to the Hartford Public Library where the staff was so enchanted by the story that they ordered a copy for every branch in the system. The message of friendship and sharing between very different animals is universal and beautifully done."
See more reviews at Amazon.com.
ABOUT GREEN BAMBOO PUBLISHING
Green Bamboo publishes quality children's books about animal rescue and animal tales. Jasmine Cabanaw founded Green Bamboo Publishing in 2014 as a way to raise funds for animal charities. She also wanted to provide education to children about caring for animals in a way that children could understand. She chose "Green Bamboo" as the name for the publishing company because this versatile grass enables hope, growth, and healing throughout the world.